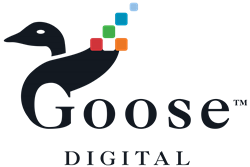 "In a short period of time Goose Digital have differentiated themselves from many other agencies with their digital marketing expertise and strategy-lead approach to solving business challenges of HubSpot customers." – Rebecca Phillips, Channel Account Manager of HubSpot

TORONTO (PRWEB)
September 27, 2022
Goose Digital, Canada's leading performance marketing agency, is excited to announce that it has reached the gold tier in the HubSpot Solutions Partner Program. This news comes 18 months after joining the Partner Program and is a result of several new HubSpot customers and significant growth in HubSpot-related revenues year over year. Goose Digital is one of only 31 gold tier solutions partner organizations in Canada as currently listed in the Solutions Partner Directory.
Goose Digital's emerging HubSpot practice has seen particular focus on Sales and Marketing Hubs respectively, helping SMB and Mid-Market organizations deploy HubSpot as a foundational technology pillar to drive greater efficiencies and revenue growth across technology, finance, insurance, and healthcare verticals. Separating Goose Digital from other agencies is the continued emphasis on strategy-lead approaches, connecting business objectives with core features of HubSpot's powerful platform.
"In a short period of time Goose Digital has differentiated themselves from many other agencies with their digital marketing expertise and strategy-lead approach to solving business challenges of HubSpot customers," said Rebecca Phillips, Channel Account Manager at HubSpot. "Goose's rapid rise in our partner program is a reflection of the marketing performance our customers are seeing from their investments in technology and expert partners. We're excited to continue working with Goose Digital and their talented team."
"Goose Digital is thrilled to be acknowledged as one of few HubSpot gold partners in Canada. Marketing continues to evolve and we take pride in developing tailored growth strategies that create high impact results" said Michael Turcsanyi, CEO of Goose Digital. "We look forward to growing our partnership with HubSpot and enjoying continued success with our shared customers," said Turcsanyi.
Want to see the power of HubSpot in action? Visit our HubSpot Platform page to schedule a demo or learn more about driving marketing performance with a specialized digital agency focused on the highest outcomes for your business.
# # #
ABOUT GOOSE DIGITAL
Goose Digital is Canada's leading marketing performance agency. We create marketing campaigns that align with business objectives to help organizations drive revenue growth and return on marketing investment. Our marketing services stretch across strategy, digital marketing and acquisition, and marketing operations/technology to deliver the cross-channel, cross-platform experiences modern audiences require. With over 100 certifications and counting, we work with leading marketing technologies and channels like HubSpot, Act-On, Salesforce (Marketing Cloud, Pardot), Marketo Engage (Adobe), Google, Facebook, LinkedIn, and more to bolster B2B and B2C organizations' marketing presence.
Goose Digital has offices in Toronto, Edmonton, and Vancouver. For more information, visit http://www.goosedigital.com.
CONTACT
Kevin Butler, VP Strategy

[email protected]

(866) 644-6673 Ext. 103
Share article on social media or email: