In July this year, Dell announced substantial updates to the PowerStore unified storage platform. The most apparent announcements were around updated hardware, bringing PowerStore to its second generation. Perhaps more important, though, were the additions on the software side with the PowerStoreOS 3.0. The OS update includes over 120 new or enhanced features ranging from security enhancements to deeper VMware vVols integration.
In July this year, Dell announced substantial updates to the PowerStore unified storage platform. The most apparent announcements were around updated hardware, bringing PowerStore to its second generation. Perhaps more important, though, were the additions on the software side with the PowerStoreOS 3.0. The OS update includes over 120 new or enhanced features ranging from security enhancements to deeper VMware vVols integration.
We've had a pair of new Dell PowerStore 1200T arrays in our lab to walk through some of our favorite parts of what's new in PowerStore hardware and software.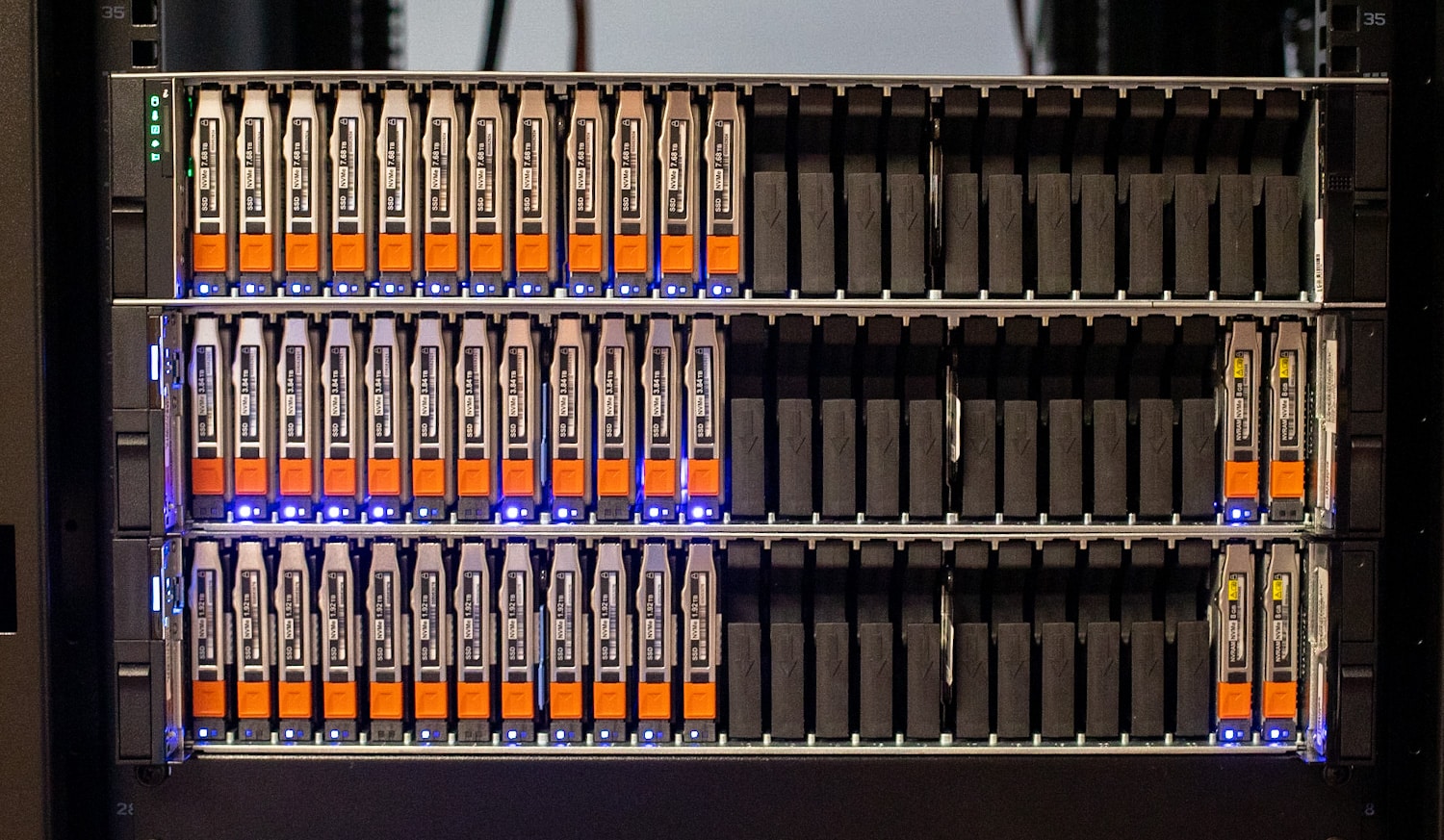 New Dell PowerStore Appliances
When Dell launched PowerStore, they included both the "X" family featuring a built-in VMware hypervisor with block only support, and the "T" family, with support for both block and file. We completed a deep dive on the X models and what you get there. This review covers the four new PowerStore T hardware models, the 1200T, 3200T, 5200T, and 9200T, as well as the latest software OS enhancements.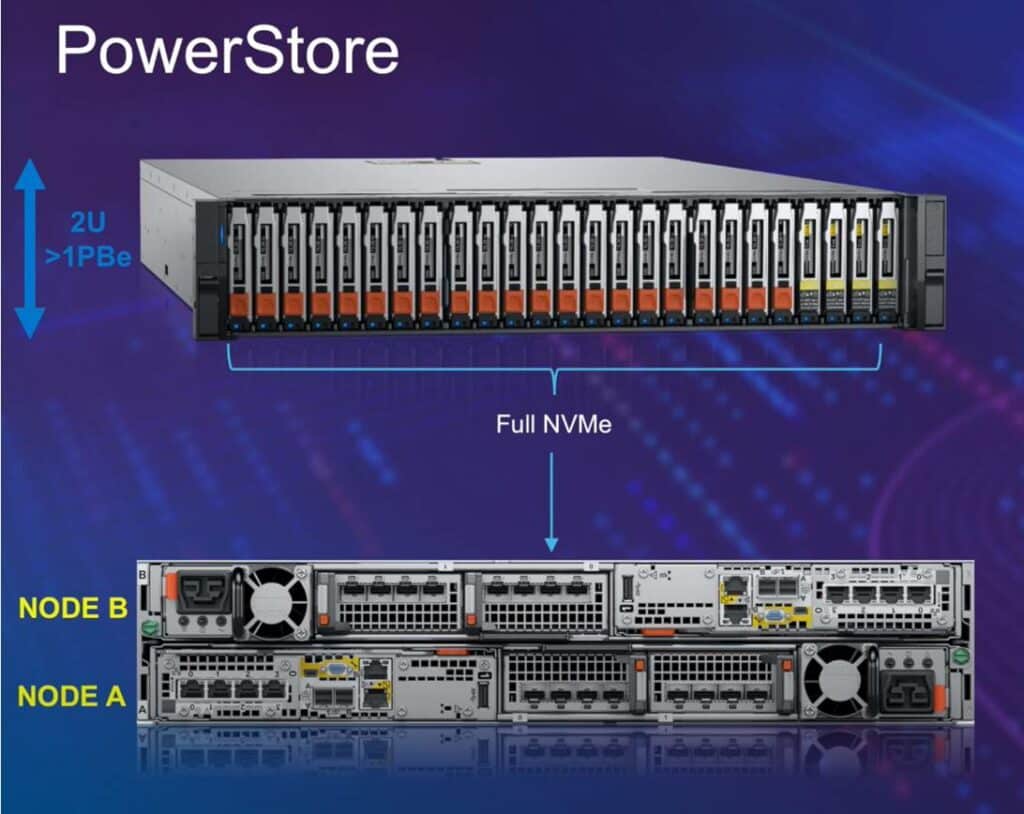 The new appliances all benefit from upgraded controllers, which drive a significant performance boost in the systems in conjunction with optimizations in PowerStoreOS 3.0. In the 1200T for instance, Dell compared the PowerStore 1200T peak throughput running PowerStoreOS 3.0 versus the PowerStore 1000T running PowerStoreOS 2.1. Leveraging an 8K block size with a 70/30 read/write mix, they saw a 50% improvement; and when switching to 100% writes, there was a 70% improvement.
Diving into the CPUs a little further, each appliance has two controllers, each with two CPUs. The 1200T, for instance, has dual 10-core 2.4GHz CPUs in each controller, providing 40 cores per appliance. In comparison, the 9200T scaled up to dual 28-core 2.2GHz CPUs per controller for a total of 112 cores per appliance. The DRAM footprint is another more considerable differentiator, scaling from 384GB to 2560GB per appliance.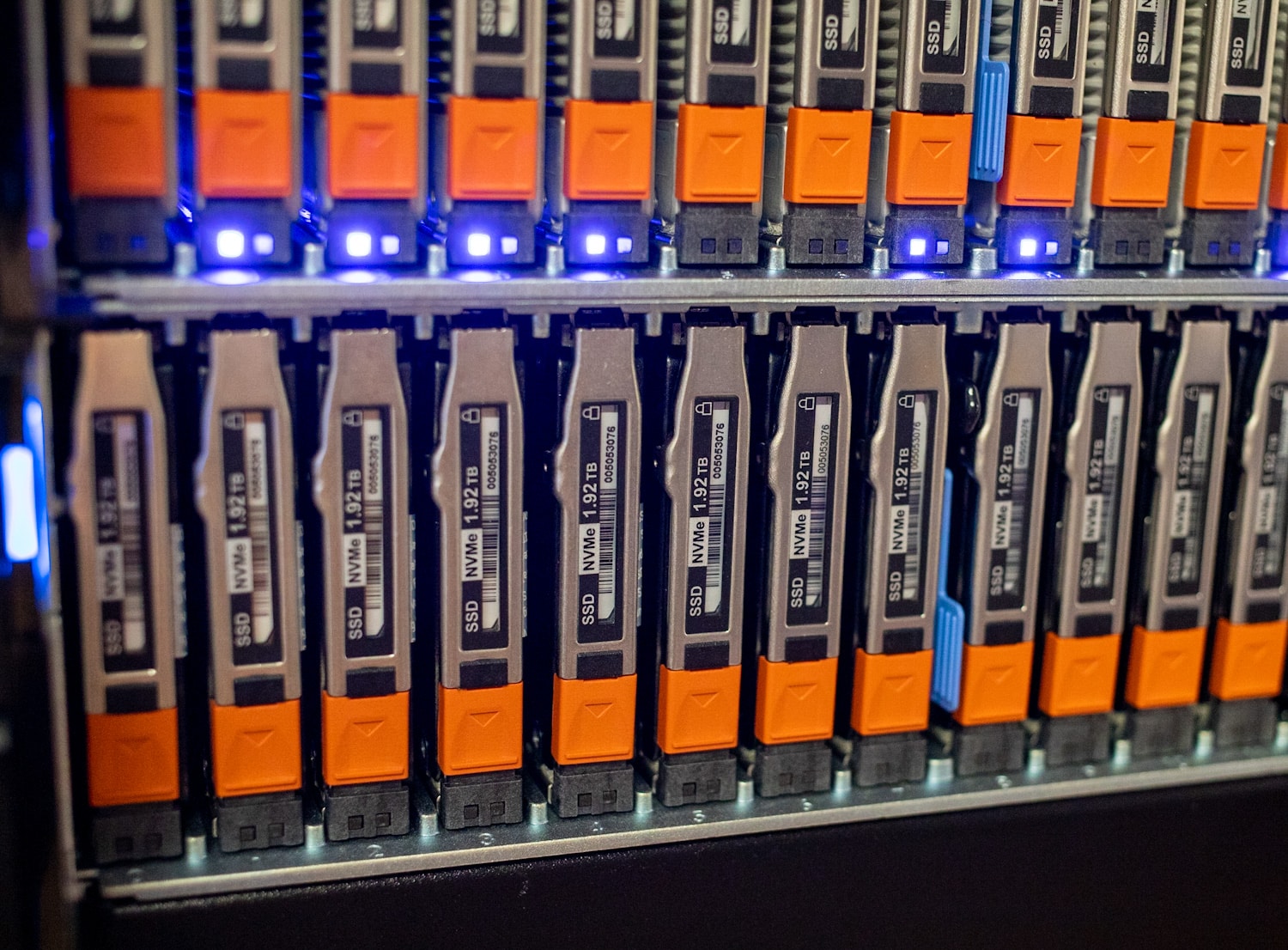 All PowerStore appliances leverage mirrored 8GB NVRAM drives for the cache. The 1200T and 3200T use two NVRAM drives in the appliance. The 5200T and 9200T appliances leverage a little more cache, using four of the 8GB modules. New in PowerStoreOS 3.0, the NVRAM drives are self-encrypting and FIPS-certified.
When it comes to expansion, all four new models, as well as the PowerStore 500, support adding up to three 24-bay NVMe expansion shelves. It is possible to add a 4-port expansion card to the PowerStore 500 if purchased without one. The 4-port card on PowerStore 500T is also used for I/O, where ports 0,1 are 25GbE I/O and ports 2,3 are 25GbE for expansion. This is a significant improvement from the prior SAS expanders and is one of our favorite parts of the new PowerStore models. We'll dive more into that in a moment.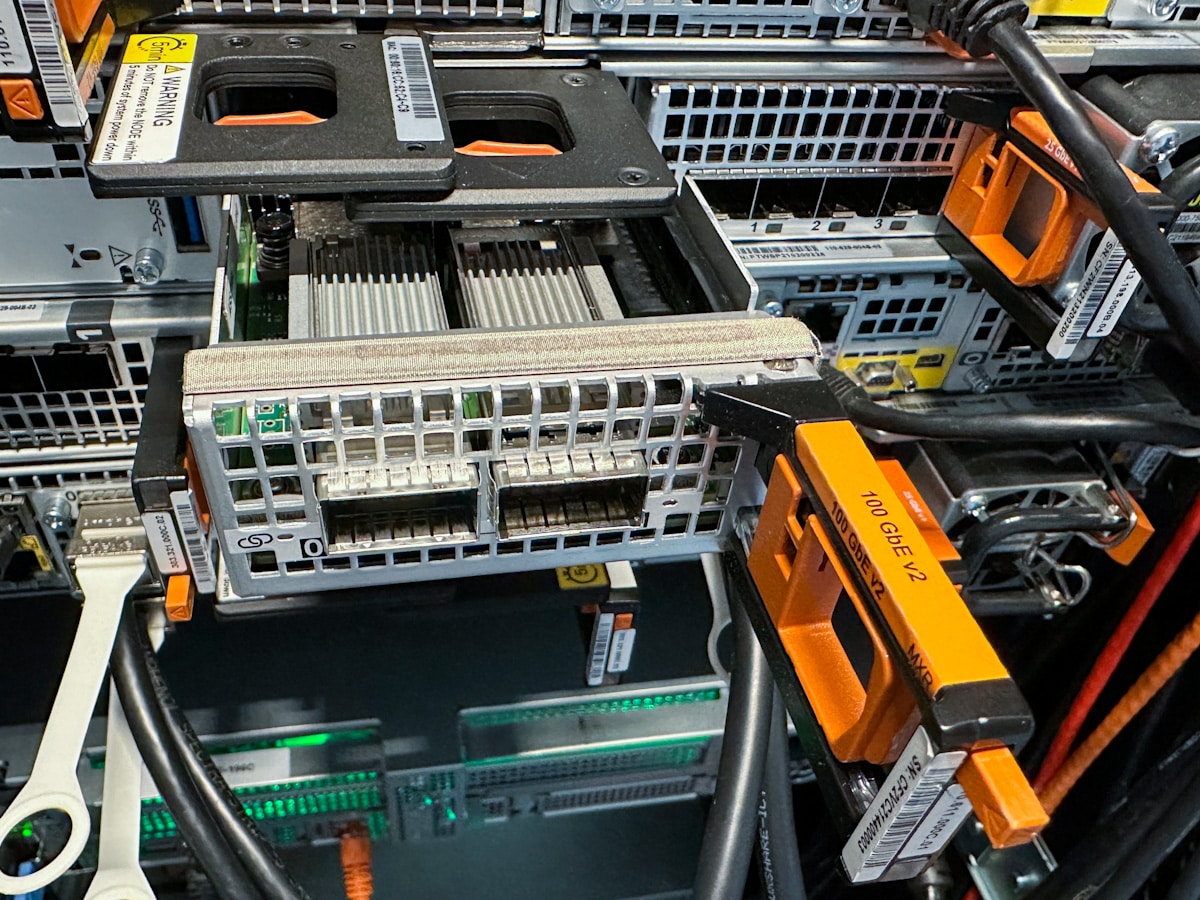 Regarding SSDs, the appliance and shelves all support 1.92TB, 3.84TB, 7.68TB, and 15.36TB NVMe SSDs. Should 93 drives in a single appliance fall short of meeting storage requirements, it is possible to cluster up to four of the new models to support up to 372 drives. Add to the flexibility of the PowerStore, the appliances in the cluster do not have to match.
While you can get the new hardware via net new install or by purchasing a data-in-place controller upgrade (available in a future software release, where a customer keeps their drives and chassis but swaps to the new nodes). Dell also offers the Anytime Upgrade plan, giving customers multiple options to modernize, upgrade, and scale their PowerStore investment. There's a neat win for customers on a 7000T as well. Because Dell dropped that system from this refresh, 7000T customers get to jump to the 9200T.
Ultimately, Anytime Upgrade is designed to expand and enhance PowerStore over time, providing greater choice, predictability, and investment protection. Through Future-Proof and Anytime Upgrade, customers can continuously modernize their investment with perpetual access to new OS releases and hardware enhancements.
HWRoT / Secure Boot
Secure Boot is a security standard developed for the PC industry to ensure devices boot using only trusted firmware and software from the Original Equipment Manufacturer (OEM), initially introduced as a BIOS feature in the form of UEFI secure boot.
Secure Boot was first introduced in the PowerStore 500 model and has now been extended to the entire Gen2 portfolio. The Secure Boot feature is transparent in the new models and PowerStore 500. Secure Boot is always enabled, does not require additional configuration, and is hidden from the end user. Secure Boot requires a hardware root of trust (HWRoT) that needs embedded hardware.
Secure Boot Benefits
Secure Boot provides end-to-end security from when the appliance is powered on until it boots into PowerStoreOS. Secure Boot provides protection from Firmware, Kernel, or Driver rootkits and bootkits. Secure Boot provides the mechanism to verify if any hardware or software has been tampered with prior to boot up, preventing any malicious attacks that could occur at run time.
NVMe PowerStore Expansion Shelves over 100GbE
Each PowerStore appliance node offers numerous connectivity options. In addition to two flexible I/O module options, there's also an option that includes an embedded 2-port card that supports 100GbE QSFP dedicated to plug-and-play NVMe expansion. This means PowerStore now provides native NVMe performance through the entire appliance, both in the base and expansion enclosures. The NVMe SSDs in the expansion shelves do not need to match the base enclosure, giving customers the flexibility to adopt more dense SSDs as density increases.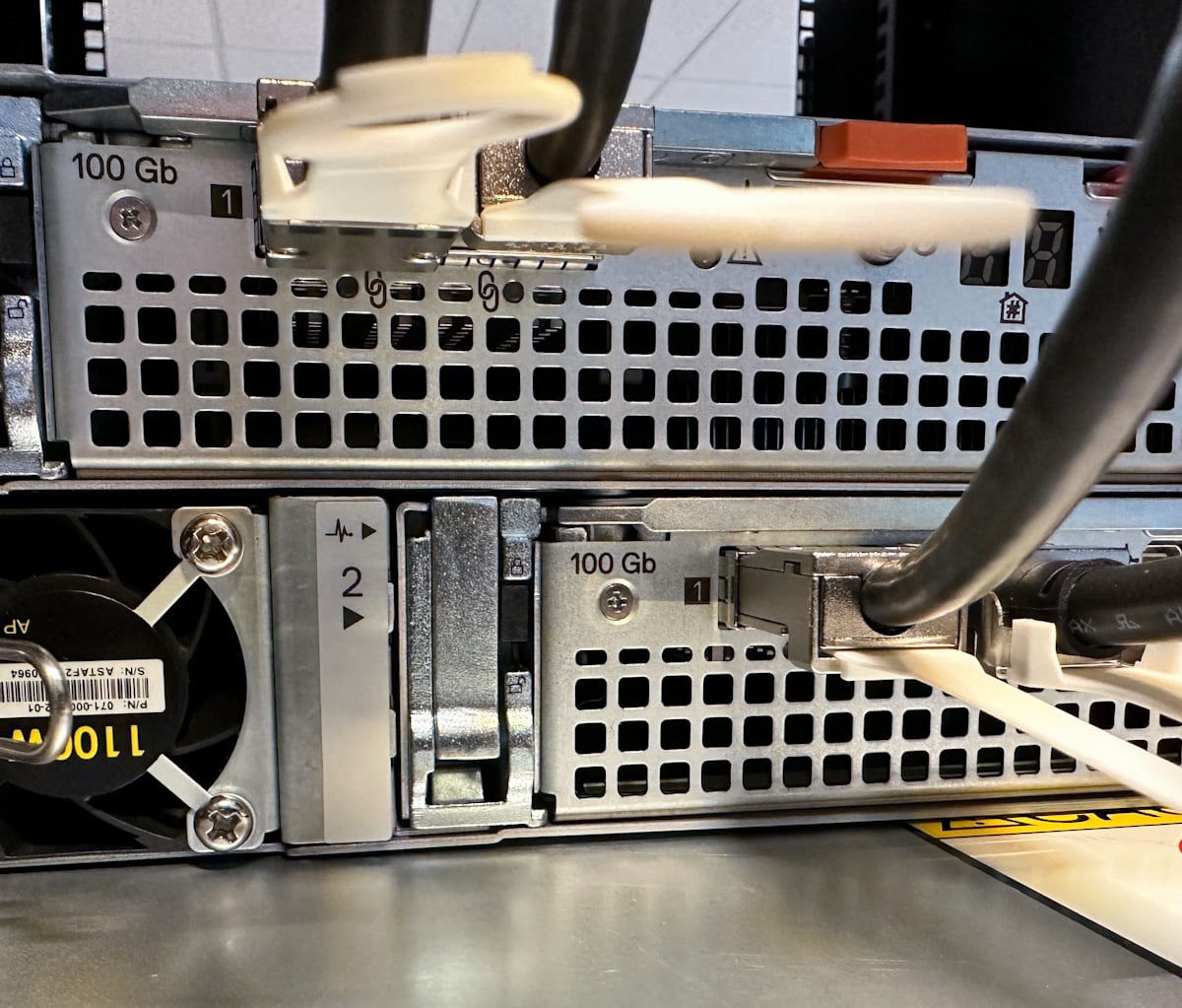 Expansion over 100GbE is a substantial improvement in terms of performance and is very easy to implement. One of our 1200T appliances came equipped with 100GbE expansion ports on the nodes. Cabling the shelf to the main appliance took four cables. Immediately upon powering the shelf, the appliance identified the new drives and automatically went through the process of importing them. The process took minutes, going from box to storage available in our 1200T.
NVMe Networking
PowerStore's new 100GbE capability does more than enable NVMe expansion. Additional I/O modules are available for host-side NVMe/TCP networking. SmartFabric Storage Software can manage the new modules, automating up to 99 percent of LAN connectivity tasks across host, networking, and storage. This should make incremental NVMe/TCP roll-outs an attractive option for customers who want to try out the technology with a software-only upgrade.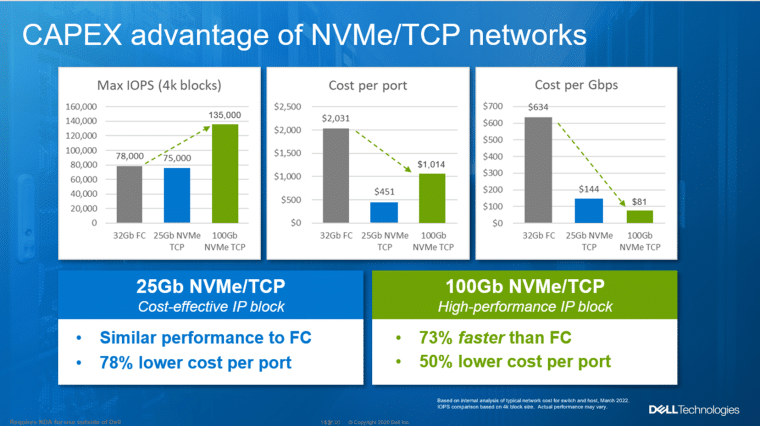 The graphic above illustrates why customers might want to consider 100Gb NVMe/TCP, especially those who have not invested in FC. Network performance and cost-per-port for hosts and switches indicate a significant reduction in network CAPEX.  Network performance and costs will vary by organization. Although 25Gb NVMe/TCP was a cost-effective alternative to FC, 100Gb improved performance over FC by as much as 73 percent and reduced cost per port by 50 percent.
PowerStore also supports vVols-over-NVMe. This capability was borne out of the design partnership with VMware. Now, customers running vVols are not restricted to FC or iSCSI and benefit from the low latency offered by end-to-end NVMe. PowerStore NVMe networking includes NVMe/FC, NVMe/TCP, and vVols, as well as PowerPath multi-pathing support for all cases.
File Replication Introduced in PowerStoreOS 3.0
Dell was busy adding replication enhancements in the new software release. There is support for native file, native vVols, and native metro synchronous block replication. Customers can protect any workload from within PowerStore. The capability to back up block, file, or vVol workloads is a software-based, non-disruptive, no-cost feature in PowerStoreOS 3.0.

File replication is delivered with some key benefits. Probably the most important to customers is they now have a cost-effective, PowerStore-native way to protect critical workloads. Features for file replication include:
Policy-based RPO: This is applied when a Protection Policy with a Replication Rule is assigned to a storage resource.
Easy setup, simple management: Multiple storage resources can share the same protection policy, making it easy to create a policy once and use it multiple times.
Asynchronous: Failover/failback is handled entirely by PowerStore.
DR test support: Customers can validate their DR environment by cloning NAS servers without initiating a failover.
In addition to the benefits of file replication, file security has been introduced into PowerStore. File Level Retention (FLR), also called File Locking, is part of PowerStore. FLR prevents modification or deletion of locked files until the retention date or forever, if required. This capability is important to customers with strict compliance or security requirements.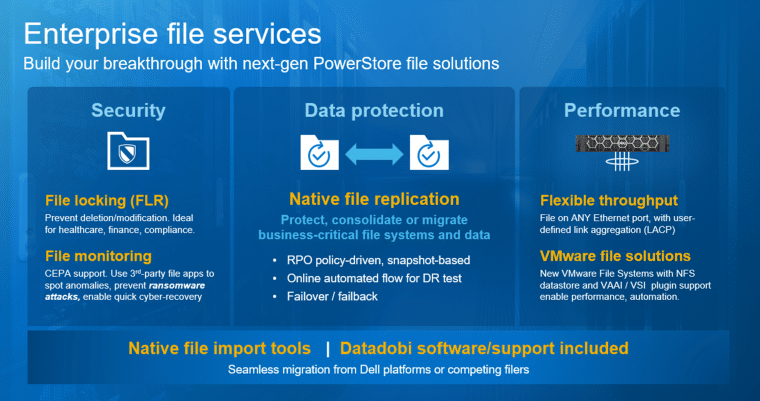 PowerStoreOS 3.0 includes the option to configure bonded link groups with user-defined Link Aggregation Control Protocol (LACP) to all available ethernet ports of an appliance. Previously, the PowerStore system bond was limited to the first two ports of a four-port card for HA purposes.
Datadobi software and support are included for migrating from other Dell Platforms to a second-generation PowerStore. Of course, Dell also supports migrating from a competitor's NAS product. Datadobi may not be a familiar name to many, but they've developed an excellent practice around data migration and are one of the well-respected leaders in this space.
Native Metro Synchronous Replication
Dell has added native metro synchronous replication to PowerStore. Customers can create a high-availability shared storage environment across a metro area without purchasing hardware or software. The metro synchronous replication configuration is active/active so that hosts can write to either PowerStore appliance. This stretched "metro volume" supports ZERO RPO, RTO, and DTO requirements.
Metro replication is software based and is so simple it can be configured in as few as six clicks. Metro replication is great for disaster avoidance, load balancing, and data/workload migration in VMware ESXi environments. This feature supports heterogeneous PowerStore models, including PowerStore 500.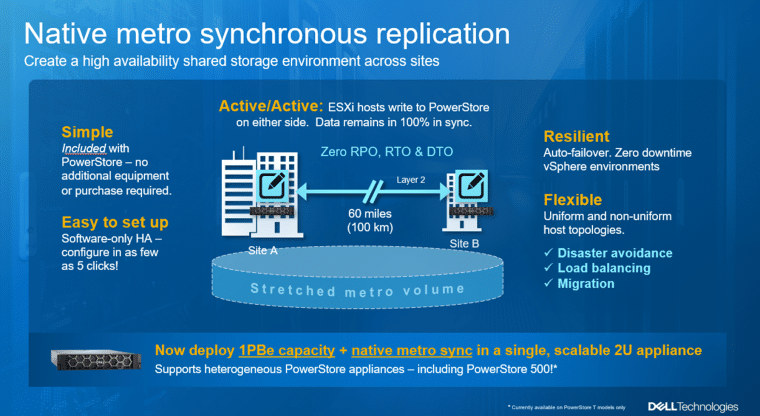 PowerStore vVol Replication
PowerStore has always been tightly integrated into VMware, but the new software release takes integration to a new level. PowerStoreOS 3.0 lets users view the relationship between VMware and PowerStore objects from within PowerStore Manager. The information provided includes the association between datastores and backend storage, like storage containers, volumes, and NFS file systems. PowerStore Manager displays information about VMs stored on block (VMFS), file (NFS), or vVols datastores. The capability to view associations from a single interface will reduce effort, eliminate the possibility for error, and delivers performance and utilization insights on how PowerStore storage is consumed in a vSphere environment.
From a VMware vSphere perspective, users can provision more PowerStore services from vSphere, such as configuring VM-level PowerStore services like replication and snapshots. Another benefit of the tight integration between PowerStore and VMware is leveraging VMware Site Recovery Manager (SRM) from vCenter. It is not required, but using SRM helps orchestrate failover at the compute and storage level. If SRM is not used, full failover can still be done via VMware PowerCLI commands. Storage failover is also available via PowerStore Manager REST API.
Asynchronous Replication
To deploy the asynchronous replication capabilities of vVols on PowerStore, users should leverage VMware Site Recovery Manager (SRM) from vCenter as described above. SRM coordinates replication policies and recovery processes across multiple vCenter servers. We started this process with a clean install of two VMware SRM instances and created a site pair between our main lab vCenter server and a replication site.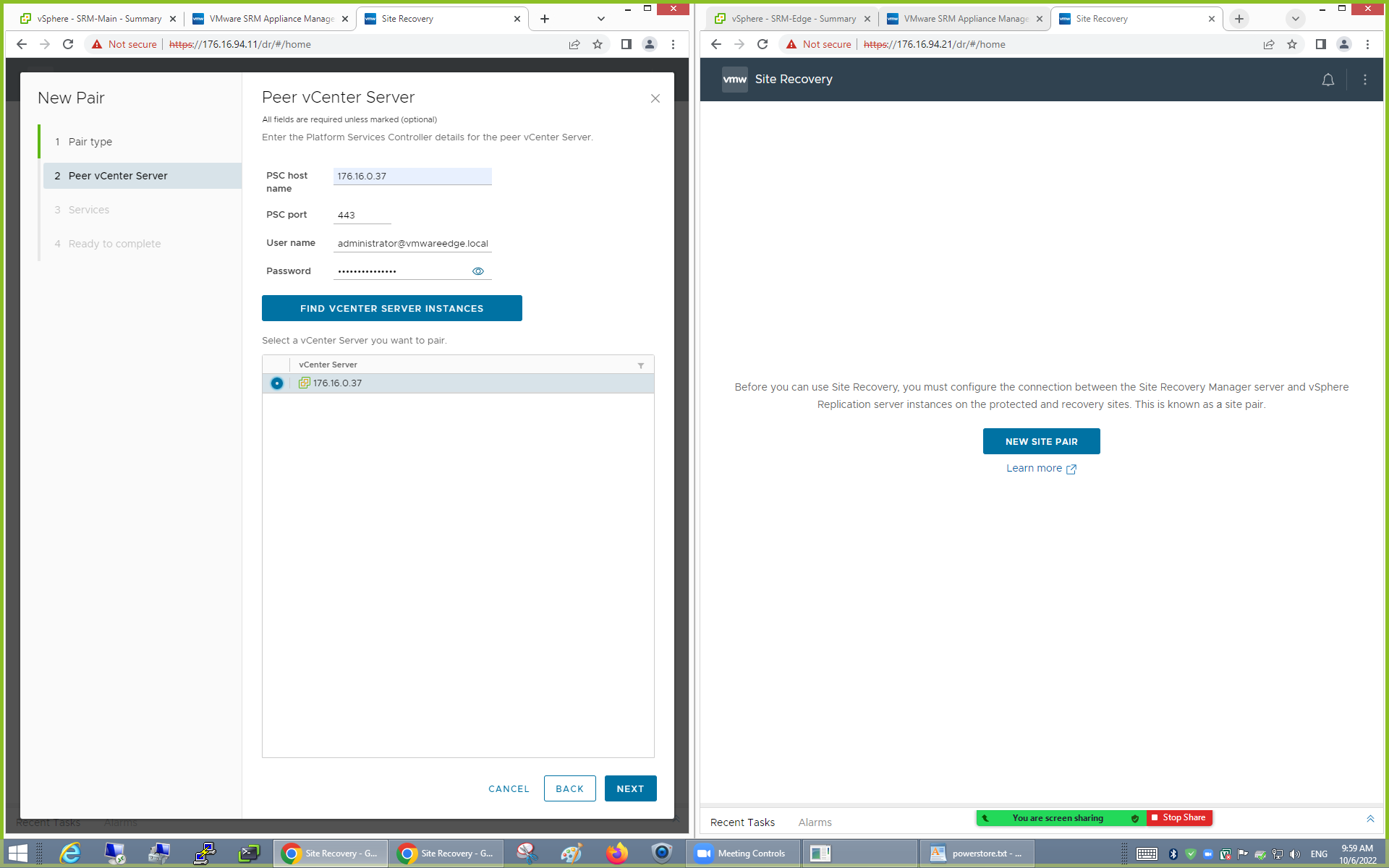 With the VMware SRM link established, the setup process then fell back to the PowerStore interface. It's important to note it is easier to order the process to configure SRM first, then connect the PowerStore arrays to their respective vCenter Servers.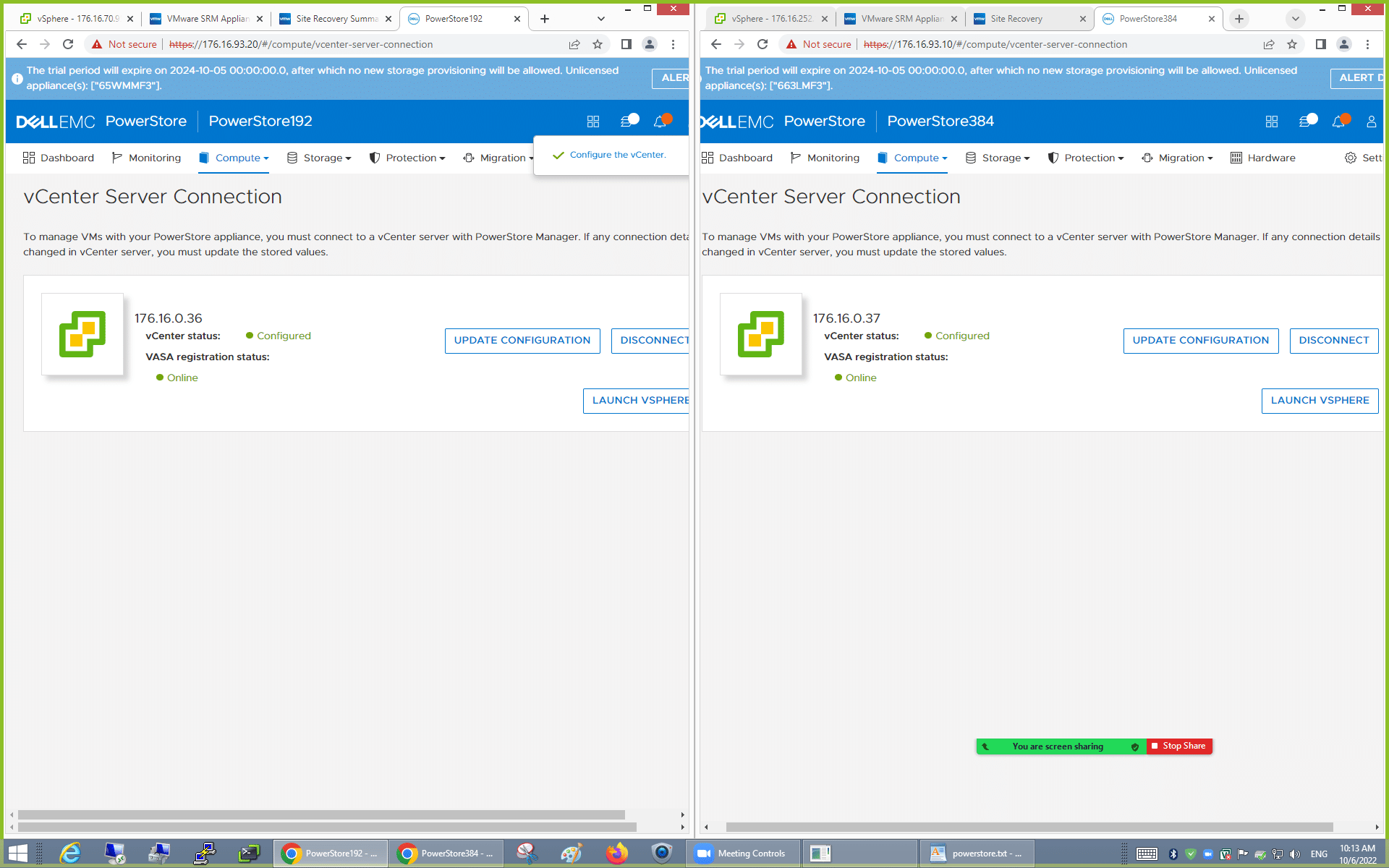 VMware integration with Dell PowerStore and even Unity XT prior were strong advantages to simplify management between compute and storage. It removes most of the legwork from initial setup processes and smooths out the steps of deploying storage to VMware hosts. We connected each PowerStore to its respective vCenter and created a vVol datastore from each PowerStore appliance.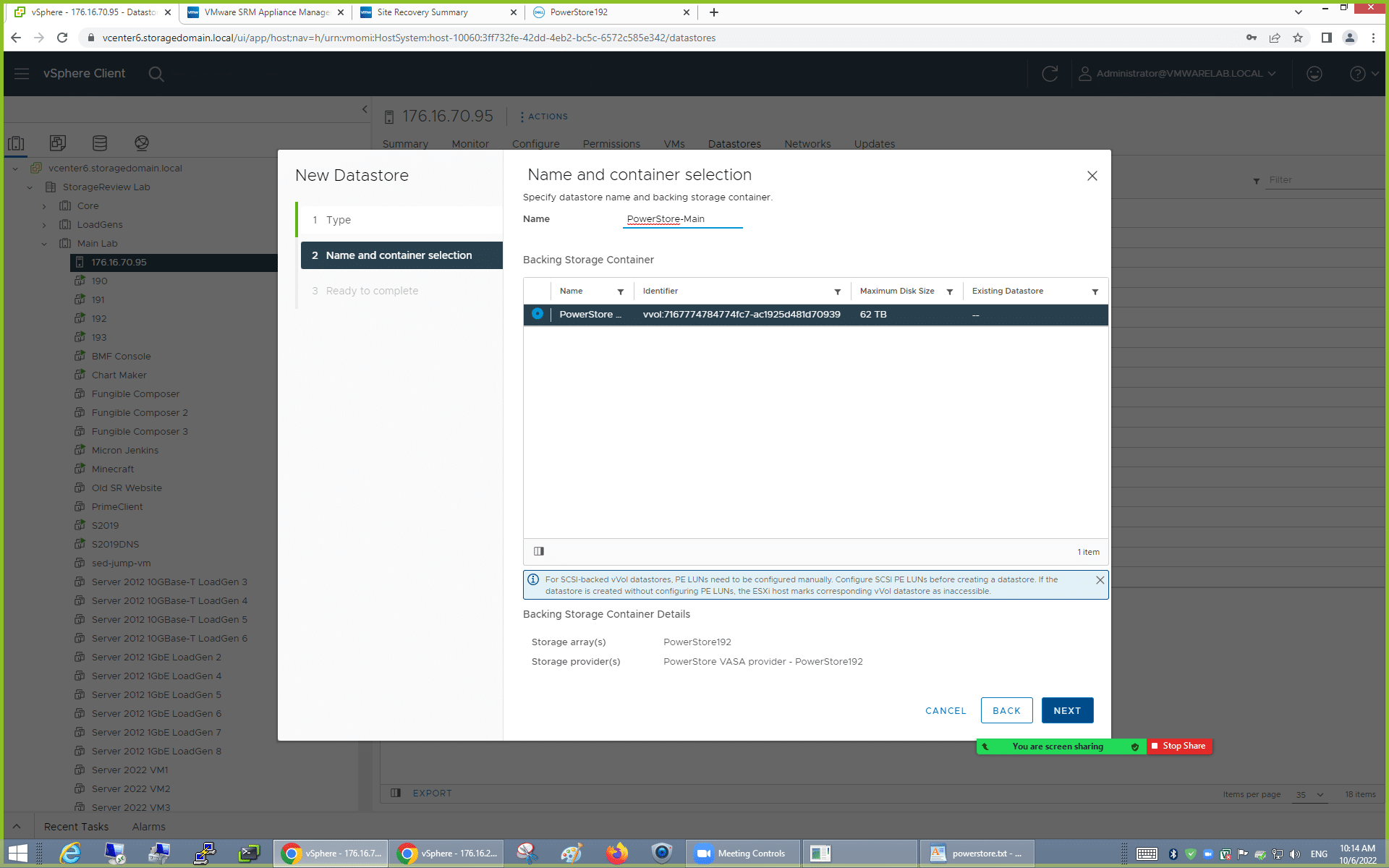 The next step in our process goes back to the PowerStore management interface, where we created a Replication Rule. We created one with an RPO time of 1 hour. This rule was also pushed to vCenter, which we see in the next step (another benefit of the VMware integration).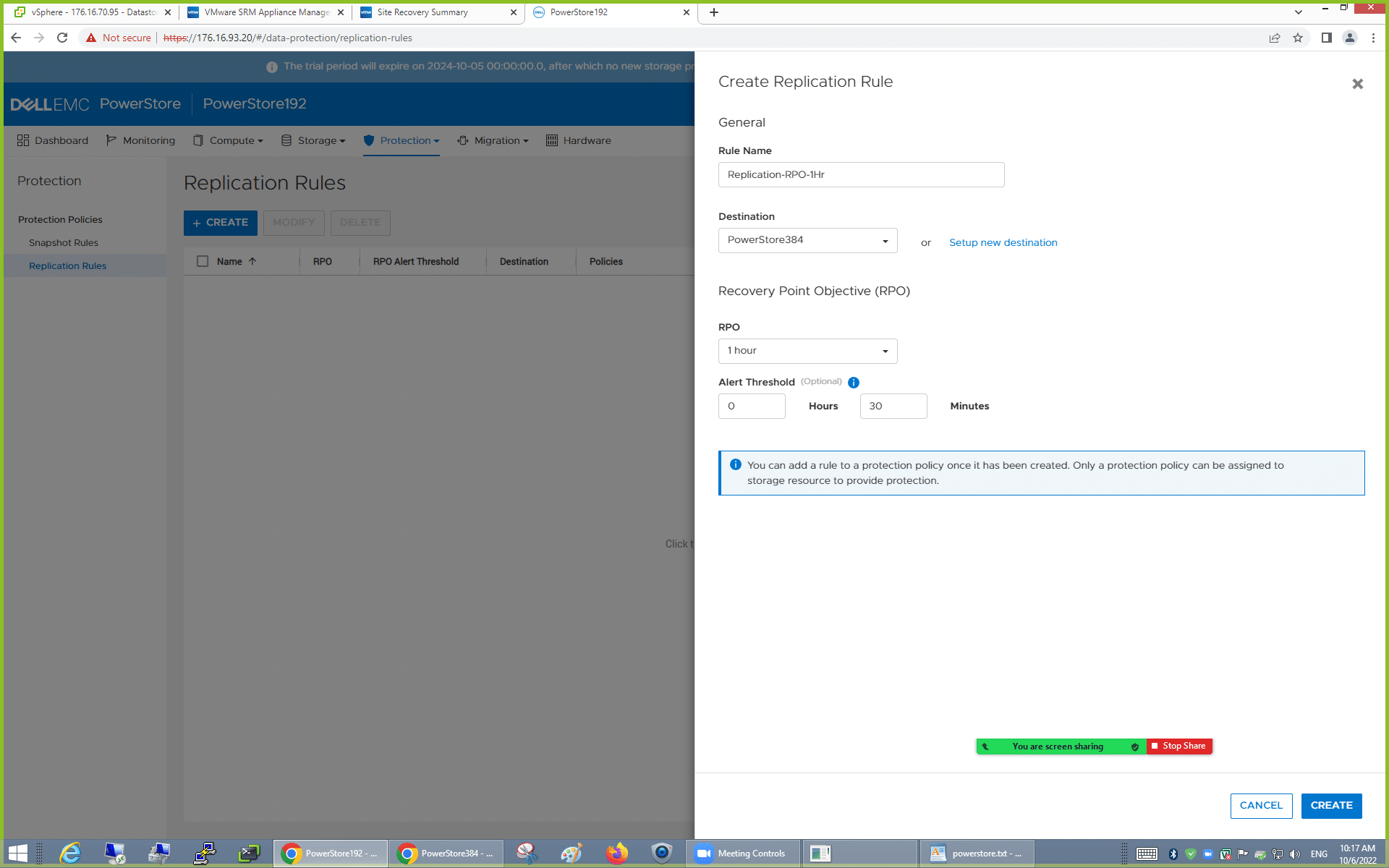 We then created a new VM Storage Policy inside vCenter, using the Dell PowerStore Replication configuration we made in the previous step.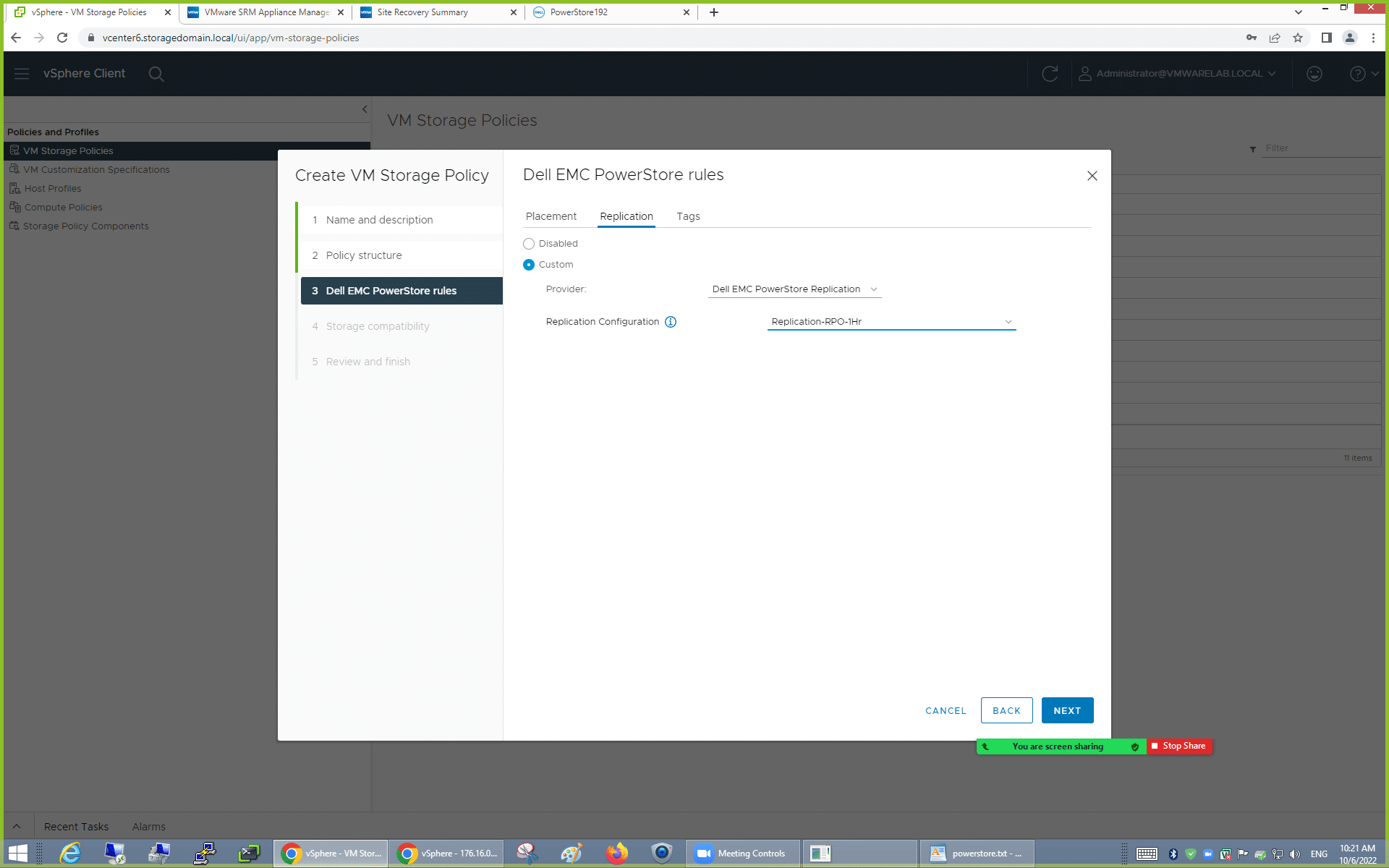 To test whether replication was functioning as intended, we applied the rule to a VM located on one of our ESXi hosts with access to the PowerStore vVol. With the VM migrated into that datastore, we could apply the VM Storage Policy to it.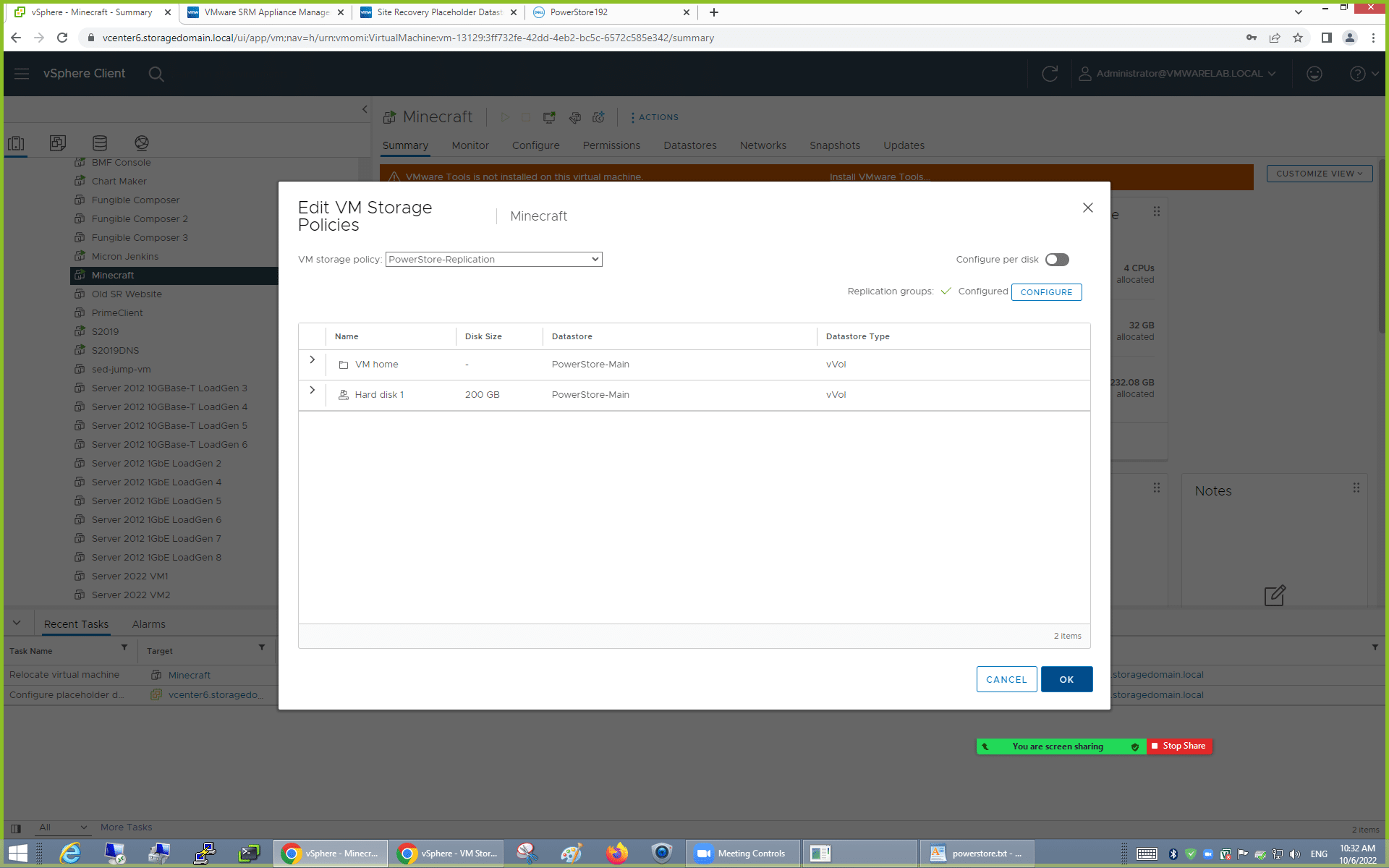 With the VM sitting inside our new vVol, the replication policy between the two PowerStore appliances, and the VM Storage Policy in place, the VM was now visible inside the PowerStore Storage Container management window.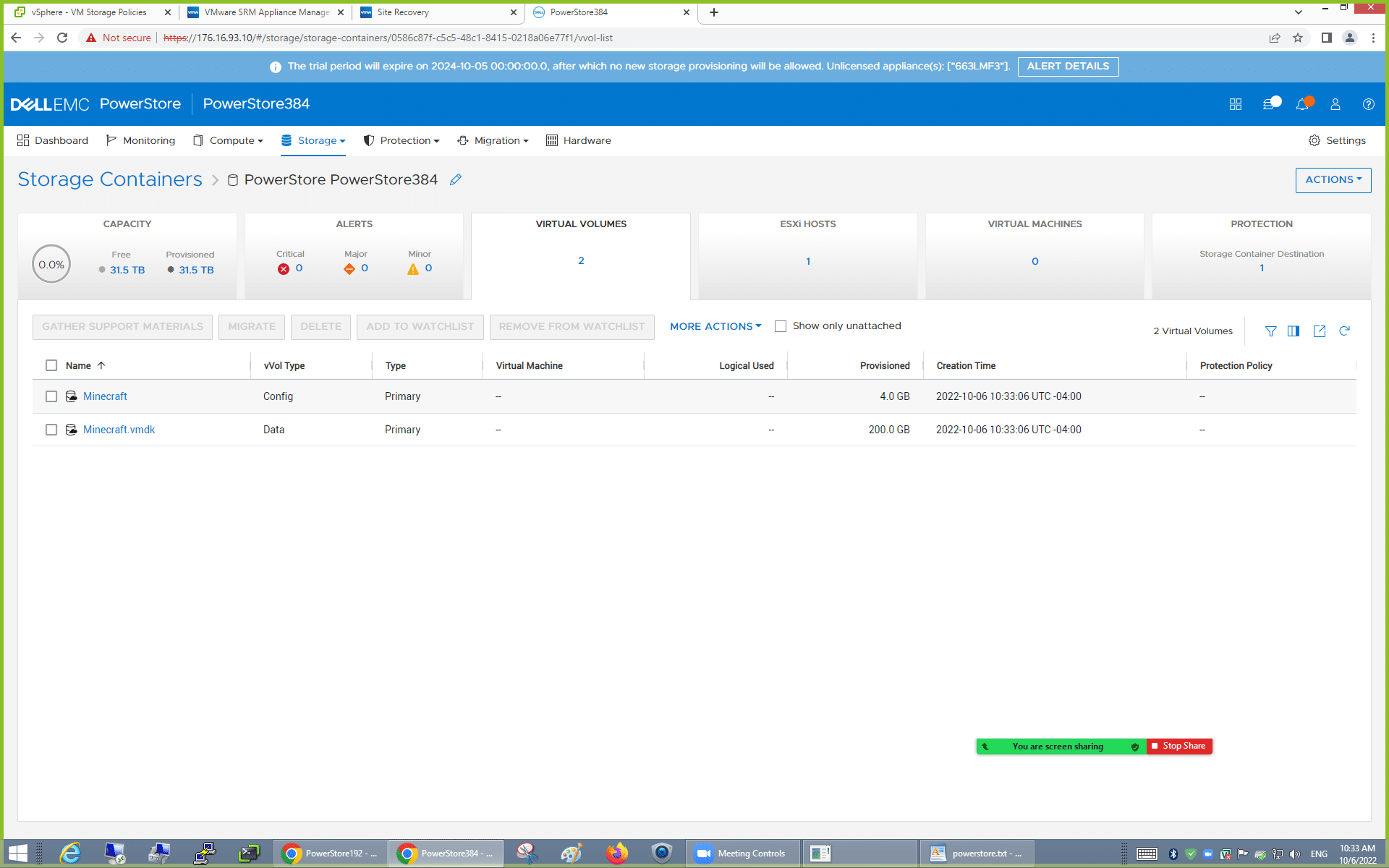 Even moments after the VM is put into the vVol, the PowerStore quickly started synchronizing the data to its destination PowerStore.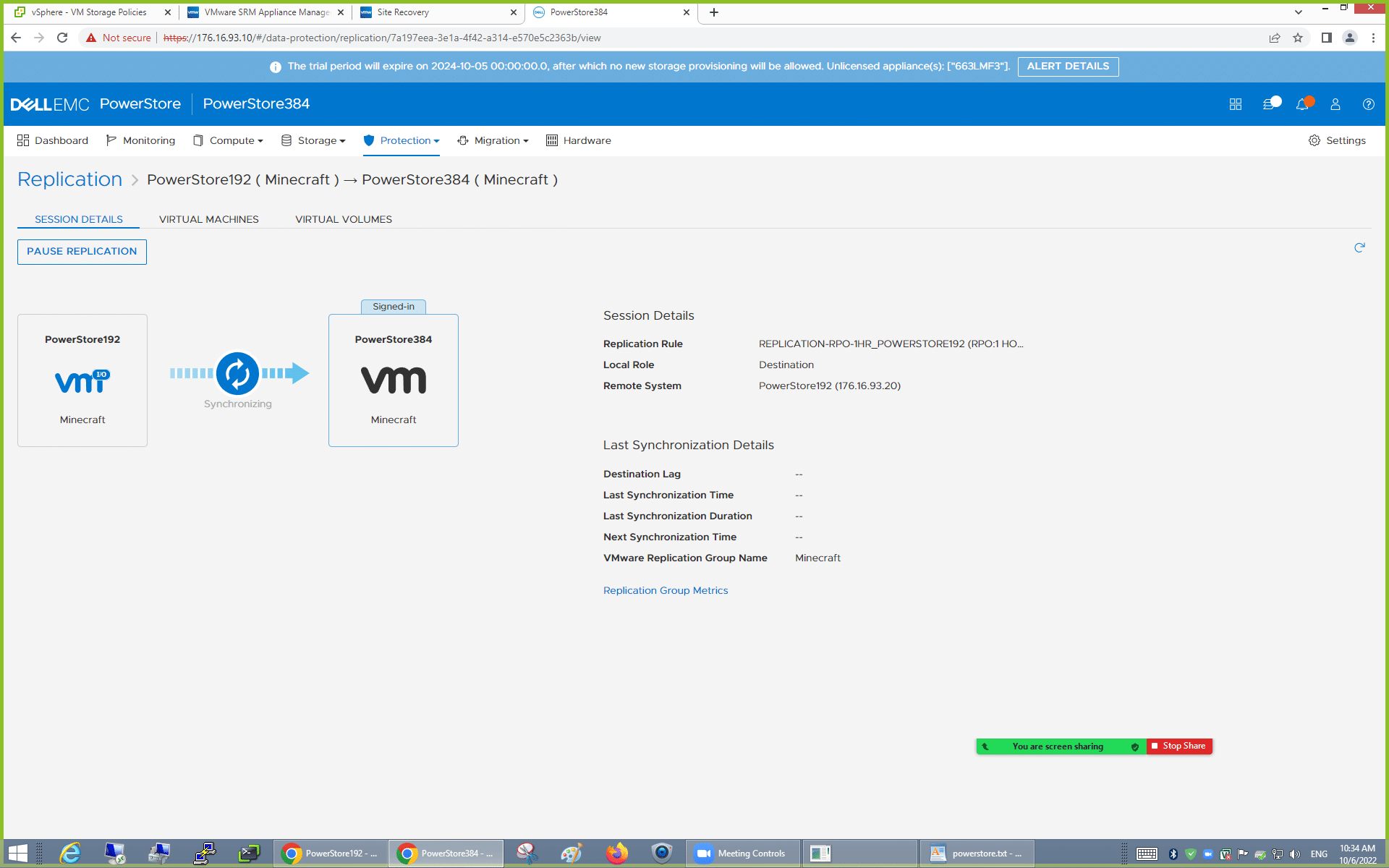 The next step in the SRM configuration comes down to configuring a Protection Group inside SRM to handle the recovery of that VM into a new datacenter. While not entirely related to the PowerStore, these settings are to coordinate main to edge host, folder, resource, and storage policy mappings. Not all datacenters will have items under the same naming convention, so SRM handles that coordination.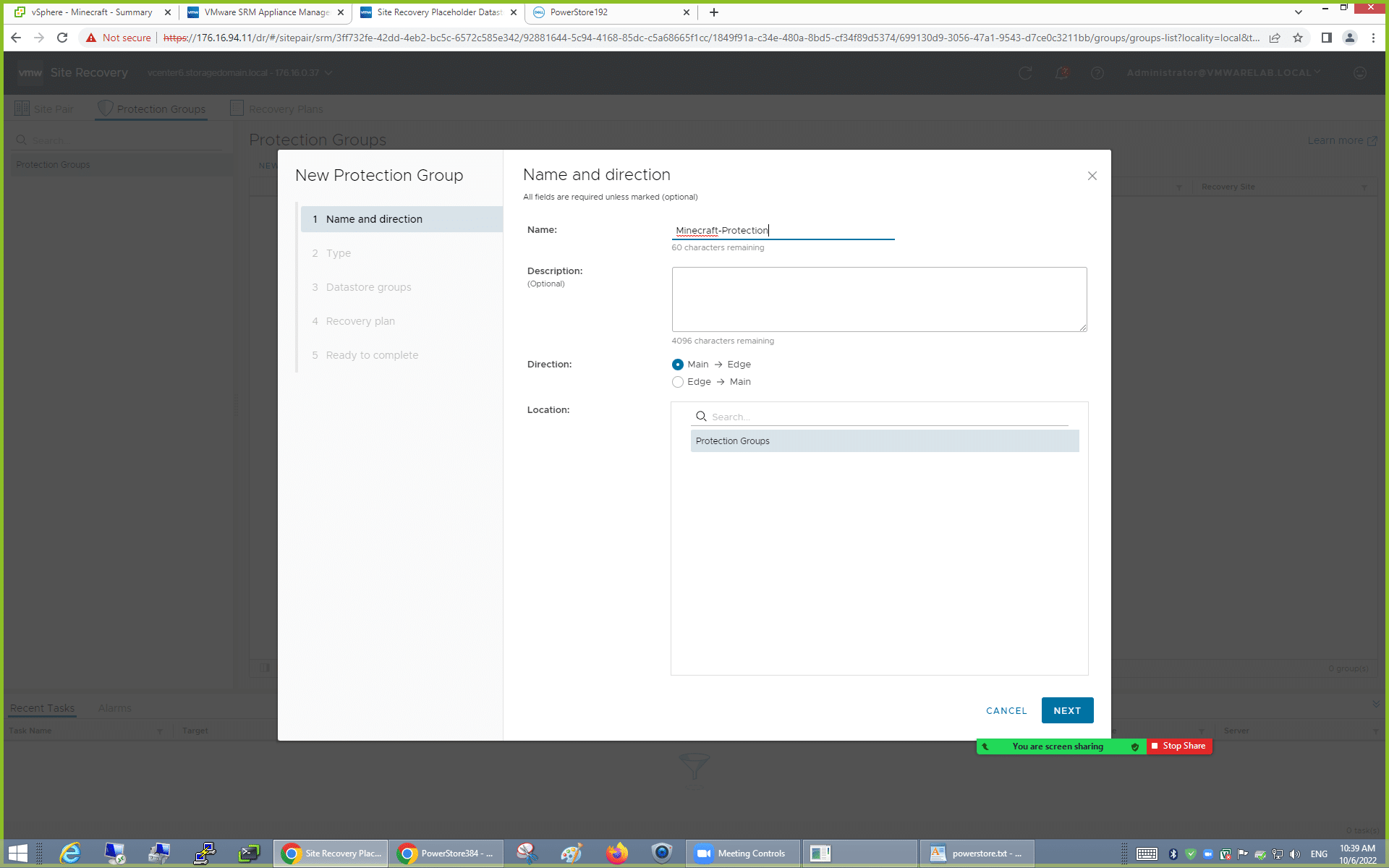 With the Protection Group configured, the last step is to create a Recovery Plan. Here you select the Recovery Group(s) you wish to address, which test network to leverage if running a test of the plan, and give it a name. Once this plan is set up, you can kick off tests of the recovery process through the automated test function. It will deploy the VM over on your replication datacenter, standing up the VM inside the replicated vVol on the paired PowerStore. When the test is complete, it will automatically tear down the VM for you.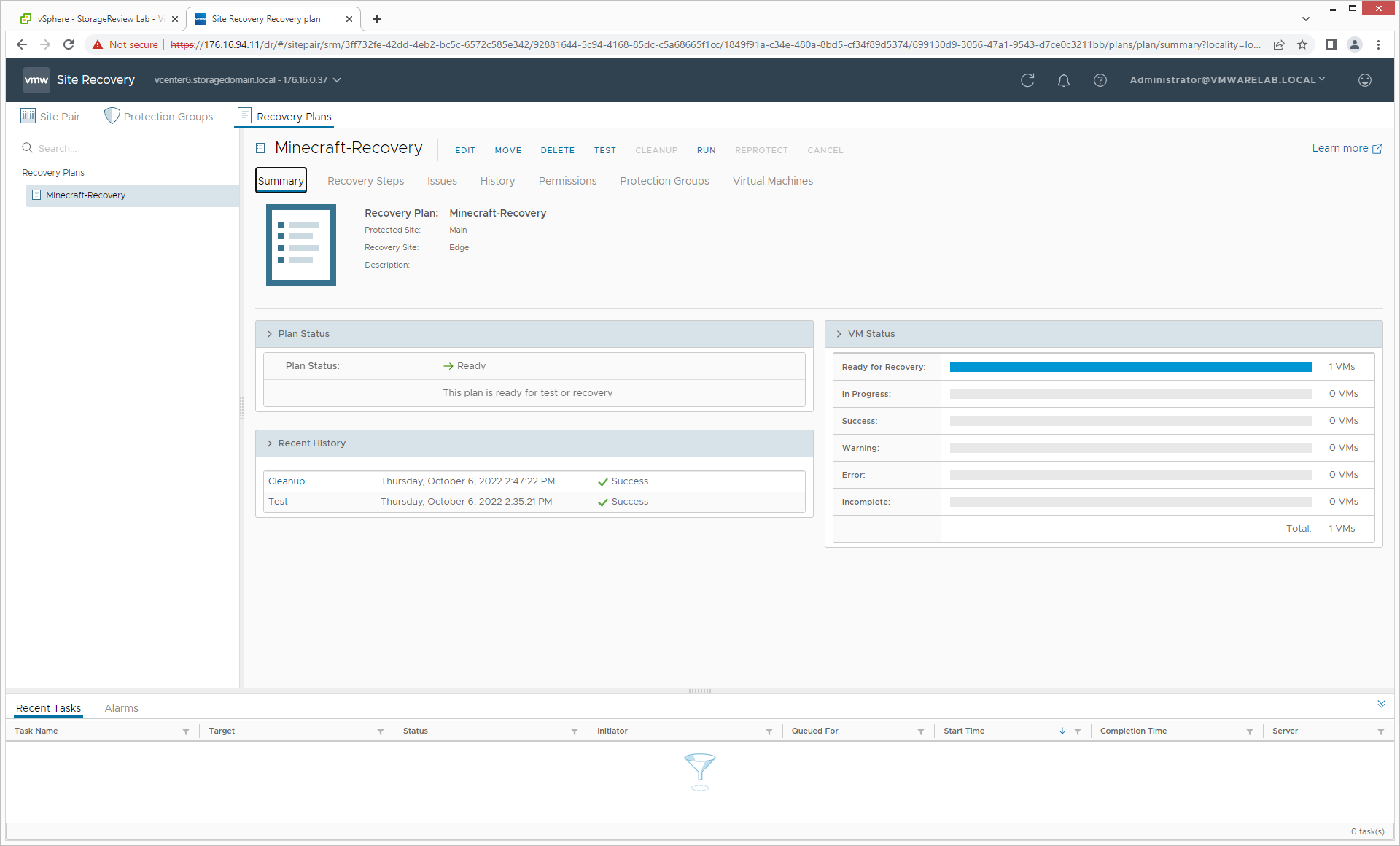 Final Thoughts
With more than 120 new features in PowerStoreOS and the updated hardware, there's a lot to like with the latest iteration of Dell PowerStore. We've gone over the highlights in this piece, but it's time to pick favorites. In our view, we love the move to 100GbE NVMe expansion for the shelves. In the lab, we cabled the shelf up and the PowerStoreOS just took over and ingested the new drives. The same was true when we added a single SSD to the shelf, literally no intervention was required by the admin. Incidentally, 100GbE carries through the entire platform and makes for a great option for those who want to take full advantage of the interface for network connectivity and leveraging NVMe-oF.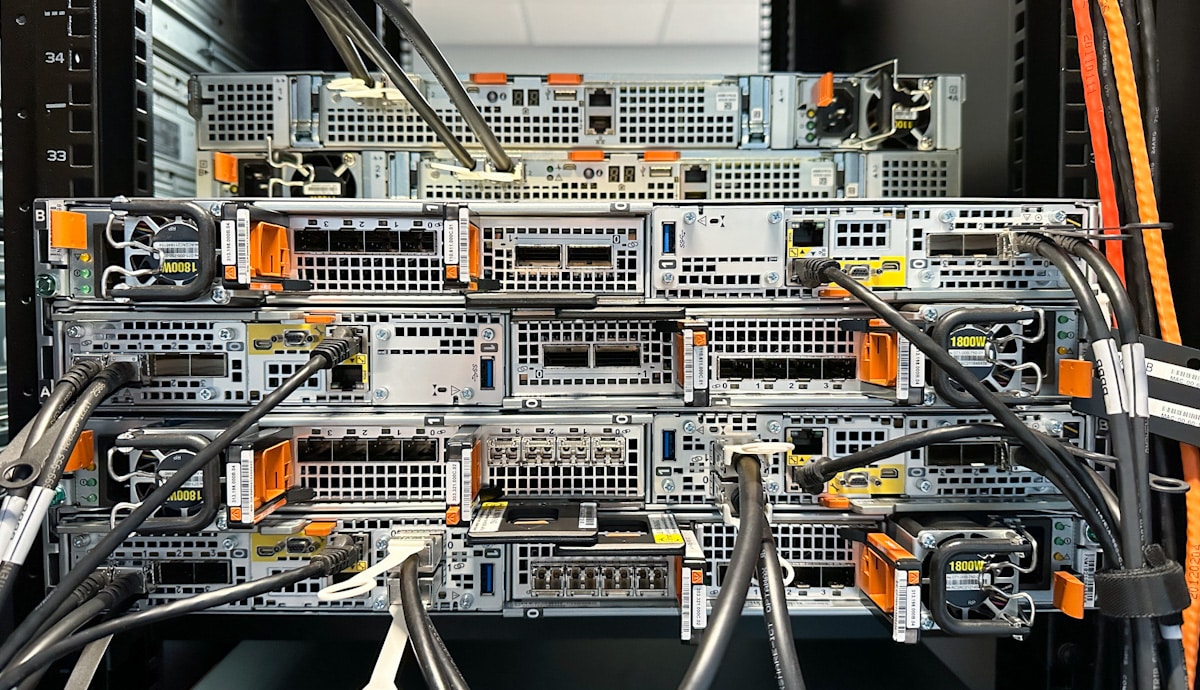 When it comes to integration with VMware, Dell continues to knock it out of the park with the PowerStoreOS. Connecting the array to vCenter takes just a few steps and after that point, the complex backend tasks are automated by the PowerStore itself. PowerStore Manager removes the complexity and guesswork for provisioning and managing appliances and VMware services. The PowerStore Manager interface has been designed with an easy-to-use, simple interface for IT generalists and more advanced features for administrators.
Provisioning new storage to hosts, such as vVols, can be handled entirely through the PowerStore Manager interface on the array once the connections to each host are configured. But there's more! Dell has added more end-to-end VMware visibility within the PowerStore Manager interface and gives users the ability to provision VM-level PowerStore services like snapshots and replications directly from vSphere. After the Day 1 activity is addressed, tasks such as replication are also handled smoothly through the PowerStore interface. PowerStore delivers the simplicity of adding all the new kinds of data mobility, including native file, vVols, and metro sync replication.
Overall Dell PowerStore continues to be extremely easy to deploy and administer, especially for those using VMware. For the midmarket, these operational benefits are a critical part of PowerStore's long-term value. Even better, Dell continues to innovate with PowerStore, driving major functionality via software that the current install base can benefit greatly from.
Dell PowerStore Arrays
This report is sponsored by Dell Technologies. All views and opinions expressed in this report are based on our unbiased view of the product(s) under consideration.
Engage with StorageReview
Newsletter | YouTube | Podcast iTunes/Spotify | Instagram | Twitter | Facebook | TikTok | RSS Feed