Four hours: That's how long students had to penetrate the corporation's network and expose its vulnerabilities.
While the network under attack during the CyberSci Regional Challenge was fictional, the skills on display by Singularity and Aurora — two four-person Dal teams — were very real. 
Singularity scooped up top spot in Atlantic Canada for its performance in the annual hacking competition held in New Brunswick last fall. In doing so, the students also landed a spot in national competition this coming summer by ranking fourth overall nationally against other teams competing in similar regional challenges. Aurora ranked fifth nationally.
For Singularity, it means competing again this July. Being ranked fourth nationally was fulfilling for the entire team but it meant a great deal for PhD student Rafael Copstein, Singularity's team lead, who has recently secured a teaching position within the Faculty of Computer Science.
"Seeing us ranked fourth nationally was very rewarding for me," he says. "Especially considering that I am now teaching a focused course on the subject, I feel qualified to guide our students into better results in these kinds of challenges."
Unlocking potential
The competition is meant to challenge students and push them to their full potential all while creating networking and career opportunities.
Singularity, Aurora and the other teams competing were presented with a realistic corporate network that forced them to think about how an attacker would approach entry into the system. Students were faced with multiple problems of varying difficulties. Each competitive event tested the students for problem-solving, communication, creativity, and teamwork.
"We started by tackling some of the problems that were worth less points, hoping they would be easier to solve," explains Rafael. "Some of the harder problems required more attention and more time, so we would put a single member to work on those while the others continued to analyze and discuss the other problems."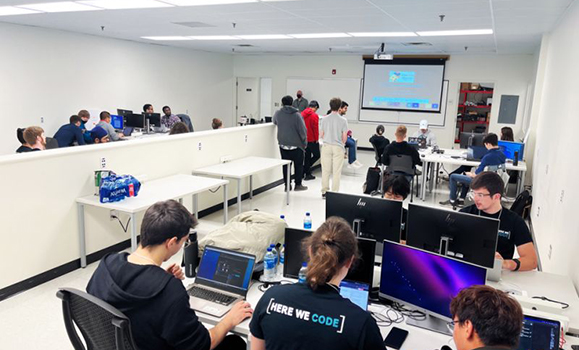 Undergraduate student Logan MacDougall of Aurora echoes this: "Our team made sure to take full advantage of the tools we learned from our sessions. We would each tackle different problems to try to get as many points as possible, if someone was close to completing a challenge, the entire team would jump in and help them secure the points."
Although team Aurora were unable to win this challenge, the great collaboration between students and the learning of new skills were both valuable components of this contest. An invaluable experience, the team members feel as if they won so much more.
"I highly recommend this experience to other computer science students," explains Lauren Galbraith, Aurora team member and Bachelor of Computer Science student. "Cybersecurity and hacking are one of the coolest aspects of computer science, in my opinion, and I feel lucky to have been given the opportunity to explore it. This competition taught me about the importance of teamwork, in addition to the valuable knowledge about hacking tools that have been developing throughout the past few months."
Recommended reading: Computer Science student secures dream role at Google
Applying learning theories to real-life situations
In their quest to represent Dalhousie University and place first, both teams became extremely busy doing what they could to prepare for the day of hacking. Rafael organized weekly training sessions for both teams that consisted of HackTheBox challenges which offers vulnerable machines for users to legally attempt to breach.
Lauren felt the support from Rafael and the training sessions were extremely helpful. 
"With the guidance from Rafael, we learned some new techniques for hacking systems and taking control," she says. "Learning these techniques may sound counterintuitive as they are definitely illegal to use in real life, but in order to stop real hackers, you have to be able to think like one."
The CyberSci competition provided ample opportunity for students to tackle both real and relevant cyber security issues. The multi-disciplinary aspect of the competition encourages collaboration between both undergraduate and graduate students. Through related competitions, students are gaining real world experience solving complex problems, which will aid them in their careers as computer science professionals.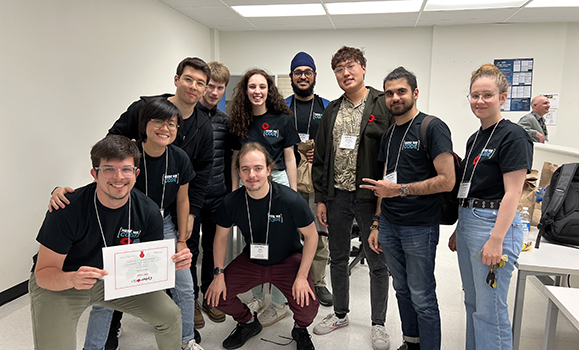 Insights gained
For Singularity, the win further defined the meaning of "teamwork." Without the efforts of the entire team, the victory would not have been possible. "Everyone's experiences contribute to a successful result," says Rafael. "While I was focusing on a specific problem that required knowledge in code analysis, some of my teammates were focused on problems on cryptography. Everyone's best skills could be applied in different focuses while contributing to our overall result."
For Logan, the experience continues to motivate him, "I learned a lot about what I didn't know," he says. "I have a long way to go to reach the same skill level as the senior team, and it has encouraged me to keep learning."
Team Singularity looks forward to competing in the national challenge in the new year and encourages any student who is interested in cybersecurity to start looking into competitions. 
Recommended reading: Computer Science students create online game to shift attitudes about accessibility